From the video "How to Survive in Gamedev for Eleven Years Without a Hit", by Jake Birkett of Grey Alien Games:
"But it's taken nine years to get that much money…it is essential that you think "long tail" about your games."
This 2016 GDC talk is from an indie developer who largely made match-three games. It is presented in a narrative lifestory style.
The Key Takes:
Sell your game on many stores, even small ones.
Spend money on art and music. $2200 plus revshare was the amount he paid for a game that net $90,000.
Even a match-three game takes months! 500 hours = 12.5 weeks, or just over three months full-time.
Even though your games can make money, remember you have living expenses (wife and kids = indie hard mode)
Focus on making one type of game and iterate.
You can polish and republish old properties. GOLD edition could be as little as only a few more levels.
The Story:
First game was cancelled, too ambitious.
Second game, a match-three, sold 1600 over ten years. He stuck with the match-threes for many years.
Third made 2000: improved art and assets.
Then when the Wizard of Oz IP expired he did an Oz themed game, made 90k. First year only 20k.
Made another, renewed christmas themed game. This one he "kept alive":

Re-promote every year (he emailed casual portals and asked them to promote it)
Localization
New portals (they dropped their standards?)
A few years later did a GOLD version, just adding more levels

If you look at it hourly, the games made progressively more per hour, up to about 200/hr in the new revamped christmas theme game.
This biggest hit game, only sold 1000 units in the first year (only 6 percent of the total!)
Because of this long tail phenomenon, it is recommended not to heavily discount or bundle in the first year… or maybe ever?
Then he did contract work (two games, for a year or two), then moved to vancouver for a fulltime position. This "paid off his debts".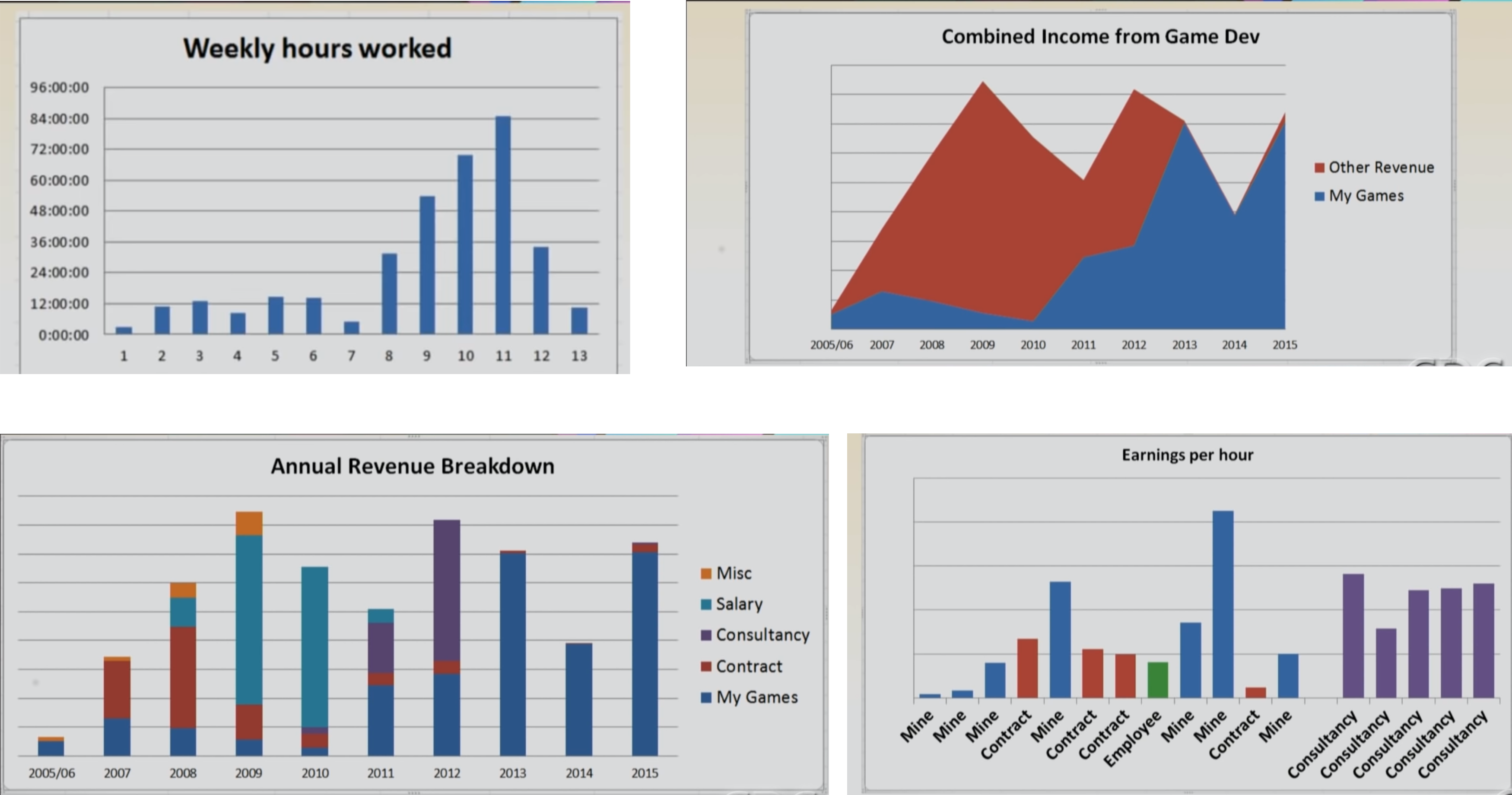 Later, he quit and worked on the game Spring Bonus, where he was able to leverage techniques he learned from his fulltime work such as:

testing metrics (for balance)
crowdsourced localization (don't do this)
recruited artists through social media "made a big list of them, tested them, went through and picked the ones I needed"
Paid artists some upfront plus a revshare

In this product, he made about 130 an hour (down from 200), would have made "much more" if he hadn't spent, "hours and hours on stupid mobile ports because: [cut to slide] mobile is shit".
He has some slides about his revenue
"It is really important to remember that every game project will take longer than you think it will take. A game project is never quick."
Then made a card game, english culture-themed game. Received a grant with it. Part of his pitch was that he could guarantee to those offering the grant that his game would be successful.

Many awards but…only got press once it came out on steam, even though steam was only 14 percent of revenue.
This game he made with his wife and he discusses the difficulties of that in depth.

According to Jake, the best recommendation is to get a cat, the stroking of which helps with stress and idea generation.
Recommended viewing: "Funding Case Studies" by Jason Della Rocca.
Conclusion:
It appears that so long as you are able to find a profitable niche, even if (or only if??) you do small games and iterate, you will develop proficiencies that allow you to be successful. The shocking note is that, for a certain good-looking game, only 14 percent of certain game sales of his were on Steam. However, for off-steam platforms he points out that their revenue share is closer to 70⁄30.